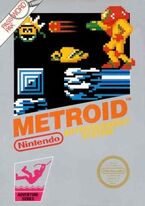 Metroid was the first installment of the Metroid series, first appearing on both the NES and the FDS at the same time.
The game was first released in Japan in 1986, with an American launch a year later and a European launch several months later, in early 1988.
The game would not return until 18 years later, being remade for the GBA in late 2004 and early 2005. Then, after 3 years, it was launched for Virtual Console for Wii, followed, after a 3 year wait, by a 3DS Ambassidor Title, Metroid, launched in late 2011.